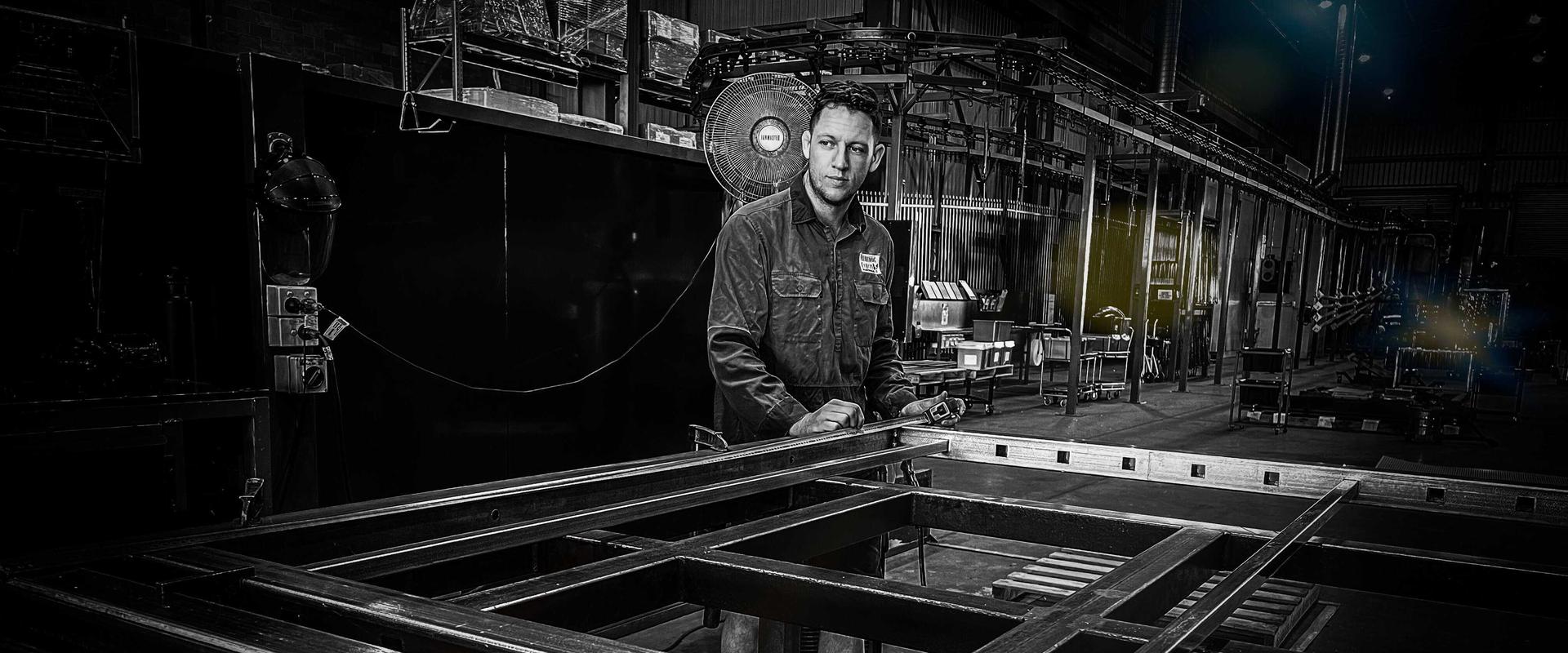 State of the art manufacturing
In the heart of Tamworth lives our state of the art national manufacturing facility
Choose the fence with the coat made for Australian conditions.
Choose a Bluedog Fence.
By choosing a Bluedog Fence, you're supporting a home-grown Australian business that understands your job and the unique conditions you're working in. Whilst you might see just another fence, we promise you a Bluedog Fence will stand the test of time and with our 10 year colour fastness warranty look great for longer.
Like the trusty blue cattle dog, we're born of good ol' fashioned Aussie ingenuity and you can be guaranteed the real McCoy, no mongrels, when you choose a Bluedog Fence. A Bluedog Fence will outlast the competition because we use Australian steel and a superior zinc coating compared to imported products.
A Bluedog Fence is an investment in safety, security and peace of mind. We have a large range of commercial and security fencing systems available, manufactured in regional Australia supporting local jobs and local families.
At Bluedog Fences, we pride ourselves on our high standards, often exceeding the Australian Standard. Our team is always working hard to deliver all over Australia to meet your safety, security and compliance requirements. Our innovative products including hinges and gates have been designed with strength and safety in mind, proving the loyalty and reliability of a Bluedog Fence.
WE TAKE PRIDE in high QUALITY

We can assure our customers that our product will last and look better for longer, and that it will be stronger and more durable. The basis for this assurance is, firstly, because we fabricate, chemically clean and powder coat wholly in-house we control the quality of the raw materials used and the manufacture process. We use steel that complies with the applicable Australian Standards.

We operate a powder coating process that complies with applicable Australian Standards and allows us to offer a 10 year warranty. We can provide external test certificates and engineers reports as to the strength of our designs. We can provide case studies of our product after 10 years of service in the field, and certificates of our quality systems having been third party accredited to the International Standard ISO9001.

TOGETHER we MAKE IT HAPPEN

Since starting as a small family owned business in Tamworth (north west NSW) over 30 years ago, we have grown to become a national supplier with an enviable reputation for providing a high quality product and service. While we have grown considerably we remain firmly a wholly Australian owned and operated business with our manufacturing base still in Tamworth.

In large part we put our success down to having attracted good and highly competent people with a "can do" attitude and who take pride in being part of a company providing a quality product and service.