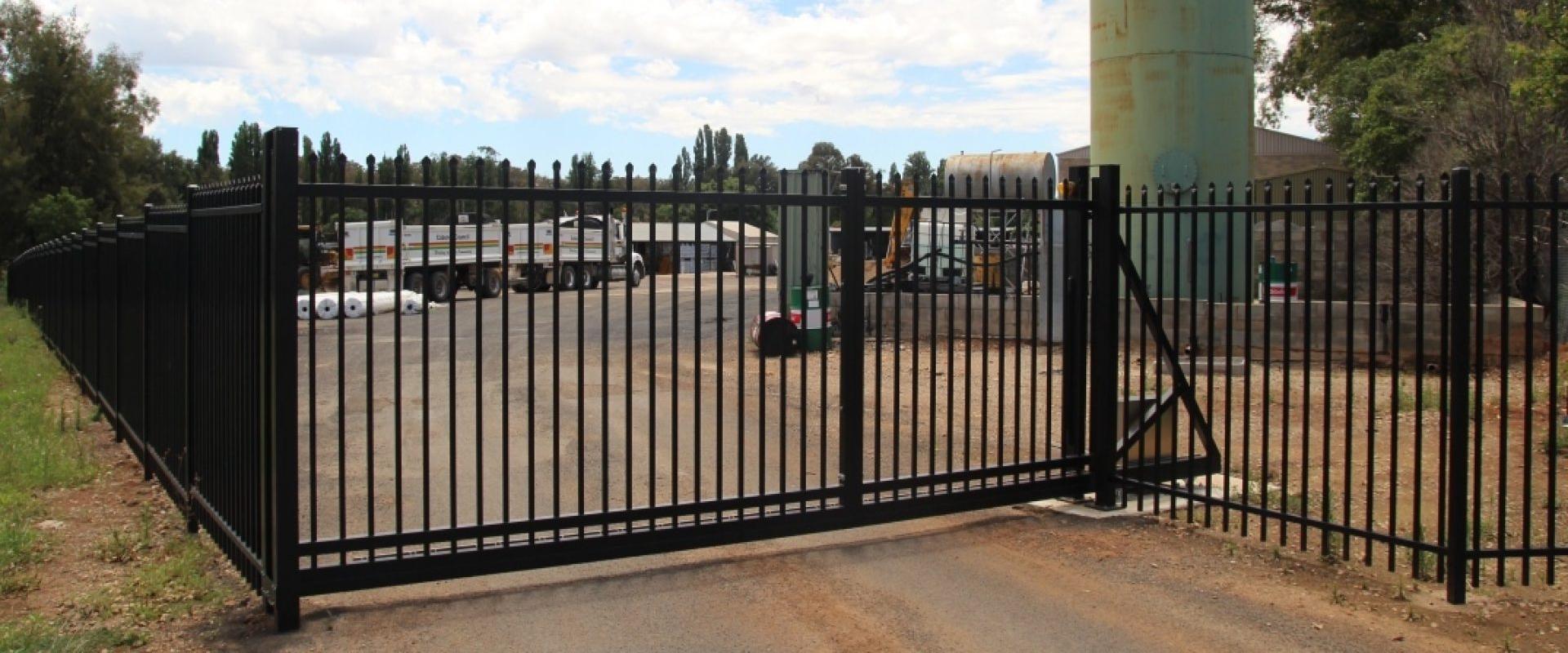 Cabonne Council eager to improve acccessibility while upgrading security
Cabonne Shire Council recently engaged Bluedog Fences to manufacture and install our SecuraTop® fence system including our MonoMate® cantilevered sliding gates at a works depot in the small town of Cudal (NSW Central West).
The depot now provides the large number of plant, equipment and staff with a secure storage and works location. Due to the facility being home to a large number of employees ease of accessibility was at the forefront of the Council design brief. With this in mind Bluedog was engaged to cater a communications and access control package to suit Council needs.
Bluedog provided two intercoms (with access control) and nine proxy card readers programmed to the Council's existing access control security system including dual height bollards to accommodate the depot's regular plant and equipment egress. Electric strikes were also installed at all pedestrian access gates and doors at the facility.
When it comes to gate automation, options differ in levels of quality and performance, comparing products is key to selecting the ideal type for the desired application and budget - getting the right information from a reliable source can make all the difference. The Cabonne council representative was able to make an informed decision to select the optimal gate automation design thanks to technical information provided by Bluedog sales staff. The consultation with Bluedog resulted in the selection of an Australian made GDS 450 LI motor to operate a locally manufactured canilever sliding gate to provide two 5 metre for vehicle entry and exit. The custom sliding gate was designed to match the Bluedog SecuraTop® tubular security boundary fence combining functionality with aesthetics. The SecuraTop® fencing is part of Bluedog's standard product range and is usually manufactured in the standard sizes of 2100mm high and 1800mm high. The result, a high quality and value for money product was delivered with functional solutions for site specific issues adding value to the procurement process.
Some other notable value-add features of the product and service provided:
Bluedog engaged all local contractors to complete the works resulting in the Council funds being spent on local contractors – a 'win win' for all involved.
The gates installed were of a seamless modular design increasing the safety in both manufacture and installation.
Mesh was installed to the outside face of the fence at the main entrance to enhance the safety of the auto gate by preventing body parts from getting impinged.
Fence fabricated in Australia with Australian steel with punched rail design and silicon bronze welds increases the durability of the material.
Our 7 stage powder coat pre-treatment process increases adhesion of the powdercoat and achieves a 10 year color-fast warranty from Interpon.